Smile, a person's ability to express a range of emotions with the structure and movement of the teeth and lips can often determine how well a person can function in society. Of course the importance given to a beautiful smile is not new. If front teeth are missing, it decreases the beauty as well as function and can cause discomfort in social conviviality
Reasons for replacing front teeth with a bridge
1. Our teeth are a very prominent part of our face. Any fall or accident can easily lead to trauma to front teeth. Your anterior teeth may need replacement due to an accident or trauma.
2. Due to high fluoride content in some areas, teeth have discoloration known as fluorosis. Front teeth can also chip off because of this
3. Usually, gaps are more prominent in front teeth. So, to mask that gaps in front teeth dental bridge is a very good option
4. Sometimes, with age teeth get abraded and need a dental bridge to convert their size and alignment.
Before and after photographs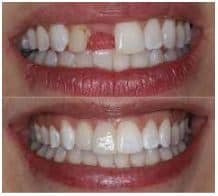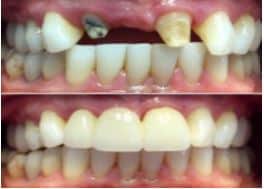 Smile is the most important means of expressing your emotions. It's always a great pleasure to a dentist to correct a patient's smile. There can be various types of treatment options for replacing front teeth with a dental bridge as explained below
Conventional
Most commonly used type of bridge. This design takes support from adjacent teeth(abutment) on either side of the missing teeth. Abutments(natural teeth) on either side of the edentulous space should be able to support the bridge. Crowns, as well as pontics, are matched with the adjacent tooth color, contour, and texture. Once, conventional bridges are placed in place in the mouth it is very difficult to distinguish them from natural teeth.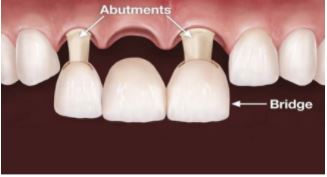 Cantilever
This type of bridge can be used when support can be obtained from a single side of missing teeth.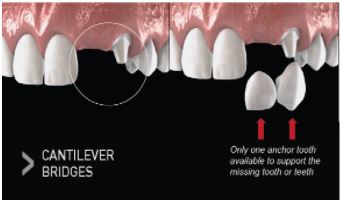 Resin-bonded or Maryland
Thin metal retainers are placed on the back surface of adjacent teeth like wings. The metal part is usually not visible. Retention is based on adhesive bonding between tooth and metal. A minimal amount of tooth alteration is required from the back surface of these teeth to form wings. It can not be used to replace posterior teeth because of more chewing forces.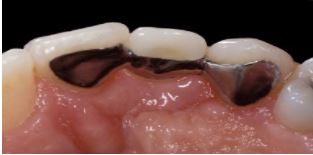 Implant-supported
If you do not want your natural teeth to get altered or trimmed then the best option is implant-supported bridge. Implants are placed in the place of missing teeth and used to support the bridge. These are also used when adjacent teeth are missing more in number and not able to support the bridge. It will resemble the traditional dental bridge as implants are below jaw line and act as natural teeth.
Although, there is a slight difference in each type even after having the same structure which changes it's appearance. You can select the type of bridge according to the requirements with the help of your dentist
Dental Bridge for front teeth not only fills the missing gap but also helps in restoring aesthetics, speech and thereby, helps in rebuilding the confidence